This web site is dedicated to my first wife Patricia
who passed away on 3rd January 2004
after a long struggle with Multiple System Atrophy.
From the time that Patricia was first diagnosed with Parkinson's Disease and then later re-diagnosed as having MSA, we both struggled to come to terms with an illness that we knew nothing about at the time. I spent more hours than I care to remember searching the Internet for meaningful information. A lot of what I found was confusing and of little value but piece by piece I managed to build up a picture of what we were both facing. I also spent countless hours on the telephone chasing up various organisations in my search for both information and assistance.
One of the objectives of this web site was to document what we discovered for others searching for answers to read and consider. If this web site can assist anyone out there, then it will have been worthwhile. Much of the information regarding Carer support and assistance is of most relevance to people living in Victoria, but I have no doubt that similar assistance is available in other States in Australia. For those people outside Australia – it may provide you with some clues as to what might be available in your respective countries. I created this web site with Patricia's total support and encouragement.
This web site was originally set up as a "read only" web site but many people have emailed me over the years with questions and comments so in April 2012 I updated it so that those interested can ask questions or leave comments or respond to other questions and comments.
Click here (http://www NULL.surfcoastwombat NULL.com/looking-back/)to go to the Comments page.
In May 2012 I added a blog page.
Previous visitors to this web site will note I have changed the header banner.  I thought the old banner was a tad dull so I hope this one is brighter.  The cartoon on the left is Patricia in her wheelchair and the one on the right is me – the surfcoastwombat – on a surf board.  Both cartoons were drawn for us by Geoff Hook, better known to most Australians as 'Jeff" – the former Herald Sun cartoonist, now retired and enjoying retirement as a more than competent painter.  If you look closely, you can see his famous trademark 'hook' in both the cartoons.  Click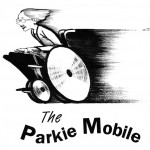 (http://surfcoastwombat NULL.com/home/attachment/john-ns-parkie-mobile-96dpi/) to see a larger version of the wheelchair cartoon and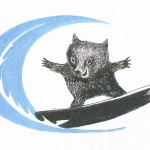 (http://surfcoastwombat NULL.com/home/attachment/john-ns-scw-96dpi/) for the surfcoastwombat cartoon.  The hook on this one is on the surfboard to the left of the right foot.  Click here (http://www NULL.geoffhook NULL.com)to view Geoff's' web site
John Cummings
Anglesea, Victoria, Australia

This web site was last updated on 8 January 2019
Disclaimer
The information contained on this Web site is intended as a guide to assist visitors to this site looking for information on MSA and related issues. It is not a substitute for diagnosis, prognosis and treatment provided by a qualified medical practitioner. Some people, particularly those in the early stages of MSA, and/or their Carers, might find some of my information upsetting.

In addition, this site provides links to other Web sites that contain information that may be of interest to visitors to this site. I recommend people check out these sites, but I can not guarantee the accuracy, completeness or timeliness of information presented at these sites.